COMMERCIAL SERVICES FOR OVER 57 YEARS!
Asphalt Repairs
&

Grinding Services in Greater Toronto Area
For professional quality asphalt grinding and asphalt repair services in Toronto, Pacific Paving has got you covered. Asphalt cracks are common in all forms of asphalt applications, from driveways to
parking lots, and can be caused by a multitude of factors.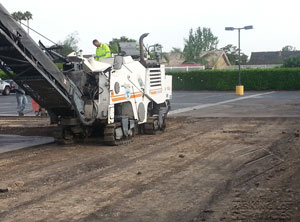 Asphalt cracks are commonly formed due to changes in weather, with freeze and thaw cycles causing water to enter the sub base. A weakened sub base will cause cracking on the surface, which also leads to overloading—the inability for the surface layer to support normal loads due to the damaged foundation, eventually resulting in asphalt failure. Natural elements such as heat, sunlight, salt and water will accelerate the deterioration process of asphalt. The material is susceptible to oxidation from the weather—the cracking allows oxygen and rainwater to penetrate the surface, which then causes further damage, especially if the water freezes and expands. Finally, asphalt will get wore down and soften from gasoline and oil spills, which makes the surface vulnerable to other destructive elements. Asphalt cracking should be repaired quickly when detected, due to its potential to disrupt the integrity of the surrounding area. If left untreated, asphalt or driveway cracks can quickly grow, resulting in costly repairs down the line.
Effective Removal of Asphalt
One way to quickly and effectively repair asphalt is by asphalt grinding or milling. Asphalt milling is a process in which either a portion or an entire section of asphalt pavement can be removed prior to the application of a top lift of surface asphalt. Essentially, asphalt milling eliminates the need for the removal of asphalt through disruptive means, such as through jackhammers or excavation. The process allows for quick, effective removal of asphalt that can be replaced in a short period of time. This is a great benefit for repairing areas of heavy traffic in which time constraints and access to properties is vital, and also results in savings for our client.
Benefits of Asphalt Milling
Asphalt milling can be used to removed ruts and create a renewed profile for the surface. It can also solidify the surface, preventing it from issues such as water buildup in well wore paths. The application of a new top lift of surface asphalt will substantially repair the integrity and longevity of damaged asphalt. Pacific Paving has a dedicated crew that specializes in asphalt milling or grinding, allowing our team to tackle asphalt repair projects with professional quality and efficiency.
Our experienced team will ensure that the asphalt in question is properly and sufficiently repaired with minimal disruption and maximum effectiveness. For asphalt grinding services in Toronto, Mississauga, Newmarket, Burlington, Oakville and Brampton, look no further than Pacific Paving—we'll make sure your asphalt surfaces are in optimal condition for many years to come.
Effective, Efficient and Affordable Asphalt Repairs
Interesting links
Here are some interesting links for you! Enjoy your stay :)