COMMERCIAL SERVICES FOR OVER 57 YEARS!
Professional Concrete Work in Greater Toronto Area
Pacific Paving is proud to serve our community by proving the finest professional concrete work in Toronto. With over 53 years of experience in the industry, our team is committed to providing the highest quality of concrete works on the market while keeping the client's interest at heart. Through listening to the needs and demands of our clients and continually striving to improve our service, we have maintained a high standard of quality in our work that has allowed us to build trusted relationships with our clients and the community at large.
Effective, Efficient and Affordable Concrete Work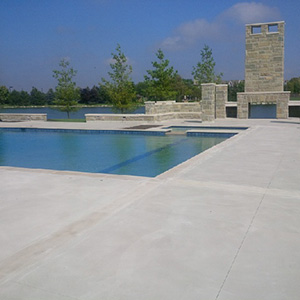 Pacific Paving provides effective, efficient and affordable concrete work for Industrial, commercial or residential properties for projects of various types and sizes. We have a dedicated team that is responsible for all of our concrete work, ensuring that all the needs of our customers will be met and that ongoing projects are given the undivided attention that they deserve. The versatility of our team allows us to tackle virtually any task, from projects covering large areas such as patterned or stamped concrete paving in Toronto parks to smaller operations such as repairing damaged concrete curbs and sidewalks. Our core team constantly seeks new members that fit the core values of teamwork, integrity and professionalism that our company is built on; as such, we employ some the best concrete contractors serving Toronto and the GTA. From concrete roads, curbs, sidewalks on public properties to stamped or pattern concrete walkways on residential properties, our team is experienced, knowledgeable and capable and ready to tackle all challenges presented to us.
Why Choose Pacific Paving?
Our concrete paving team consists of one foreman, two grade setters, two form setters and two concrete finishers; this team has worked together extensively on a multitude of projects, allowing them to combine their experience and knowledge into one efficient and effective concrete works team. By having defined roles for each member of our team, this structure enables each person to specialize in their respective responsibilities, allowing for a greater focus on each step of the process that ultimately results in a superior end result.
For over 53 years, our company has been serving Toronto, Mississauga, Brampton, Oakville, Burlington and Newmarket in various capacities. We constantly strive to improve the quality of our service in order to better serve our customers; our team treats every single project with great attention to detail and workmanship to ensure an end product that is of the finest quality and surpasses the high standards expected of us. For all your concrete work needs, contact us Pacific Paving today—we guarantee you'll be delighted with the results.
Effective, Efficient and Affordable Concrete Work
Interesting links
Here are some interesting links for you! Enjoy your stay :)