COMMERCIAL SERVICES FOR OVER 57 YEARS!
Demolition Services in Greater Toronto Area
&

Mississauga
In addition to our many other services, Pacific Paving also specializes in professional demolition for Toronto properties. With over 53 years of experience in the industry, Pacific Paving has what it takes when it comes to assisting our clients with their demolition and structure removal needs.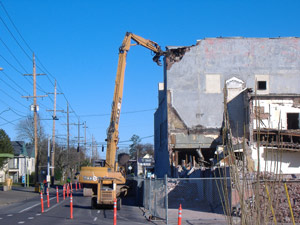 Sometimes the best way to improve or reshape a landscape requires one to remove what currents exist on site—and Pacific Paving's demolition services does exactly that, allowing our clients to make a fresh start. Demolition is the facilitation of the dismantling and removal of existing structures on a site, such as buildings, in a safe and effective manner. By removing existing structures with minimal disruption, construction on the site can begin with the assurance that the site is free of any obstructions and ready for a fresh start.
We Understand that Every Site is Different
Demolition takes a normally destructive and chaotic process, and through certain measures, transforms this disorderly procedure into something that can be broken down into multiple steps and accomplished in a controlled and stable manner. Here at Pacific Paving, we understand that every site is different, and every project requires extensive research and preparation in order for the final plan to proceed smoothly. In order to ensure that the process is safe and effective, our team takes great care in establishing control and monitoring procedures so that our team is able to have a firm grip on the situation. Prior to the actual demolition, our experienced team will undergo a complete site and environment analysis to ensure that the site is safe for such a procedure, and to determine the optimal course of action for the demolition project.
Our goal is to minimize environmental impact and community disruption while maximizing the effectiveness of our demolition procedure. We take great care to ensure that hazardous materials stemming from the demolition process are quickly and safety removed from site.
We custom tailor our work on each project to the needs of our clients and the current situation—we do not follow a standard template, but rather take the experience and knowledge we have gained from previous projects to aid in our decision making for the current one. This attention to the details and nuances of each individual demolition project is what makes Pacific Paving the best option for professional demolition in Toronto.
Serving the Greater Toronto Area
Pacific Paving has been serving the Toronto area as well as Mississauga, Oakville, Brampton, Newmarket and Burlington for over 50 years; we're delighted to be able to offer demolition and removal services to our valued customers. For all your structure removal and demolition needs, contact Pacific Paving—and let us help you make a fresh start.
Effective, Efficient and Affordable Demolition Services
Interesting links
Here are some interesting links for you! Enjoy your stay :)