COMMERCIAL SERVICES FOR OVER 57 YEARS!
Interlock Paving Done Right!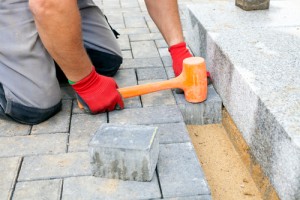 Pacific Paving continually strives to provide multiple solutions for all our client's paving needs—and thus we are delighted to be providing interlock paving for Toronto properties. Interlock paving is an excellent alternative to traditional brick, asphalt or concrete paving. The unique nature of interlock paving allows for a flexible system in which the joints between each paver allows more movement, eliminating the effects of cracking common with asphalt and concrete paving. With interlock paving, you stand to gain the appearance of a traditional brick or concrete driveways, while reducing the need for maintenance and repair caused by individual pavers.
What is Interlock Paving?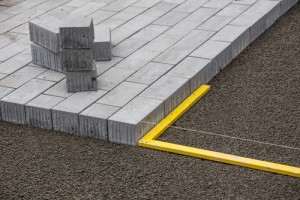 Interlock paving are often thought of as many stones that are fitted together to form a surface; in actuality, the pavers of the surface cannot move independently—they are interlocked, hence the name. The sand that is used for interlock paving is responsible for holding the pavers together. This system is optimized so that movement is accounted for—the flexibility than allows for greater longevity of the surface. An interlock paved surface is at least four times stronger than a concrete driveway, due to the lack of cracking that is a result of pressure or weather caused deterioration. This makes interlock paving a cost–effective, durable and aesthetically pleasing alternative to concrete and asphalt paving that will stand the test of the time.
Pacific Paving is well equipped to properly prepare the surface for interlock paving, from removal of old material, to compacting the sub base and installation of interlock paving. Our experienced team will ensure that each project, regardless of scale, is completed efficiently, effectively and with the utmost attention to detail and professionalism. We carry a wide variety of interlock paving patterns, designs and styles in order to suit the individual needs of our clients; we are sure that we have interlock paving that is perfect for your property.
Our team's top priority is to provide a high standard of quality in our work, allowing us to build trusted relationships with our clients and the community at large. With interlock paving, we feel that this alternative to concrete and asphalt paving is an option that our customers will be delighted to pursue. For over 50 years, Pacific Paving has been serving the Toronto, Mississauga, Oakville, Brampton, Newmarket and Burlington area with the very finest in paving services. Trust Pacific Paving when it comes to commercial and residential professional quality paving at an affordable price.
Effective, Efficient and Affordable Interlock Paving Services
Interesting links
Here are some interesting links for you! Enjoy your stay :)