COMMERCIAL SERVICES FOR OVER 57 YEARS!
Winter Snow Removal Services in Toronto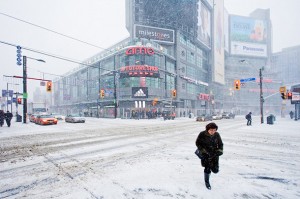 For professional winter snow services in Toronto, look no further than Pacific Paving. In addition to our paving and landscape construction services, Pacific Paving also offers professional snow clearing services such as snow plowing, snow removal and salting for our clients. Residents of Toronto and other parts of the GTA are well aware of the delays and nuisance that snowfall can cause; snow buildup, when not properly and quickly treated, can cause delays and cause create dangerous situations. Pacific Paving offers various snow clearing services that are quick, effective and affordable. The combination of our experienced team and our state–of–the–art snow clearing equipment ensures that all your snow clearing needs will be met with maximum efficiency and professionalism.
Our Professional Snow Removal Team
Our team is equipped to remove accumulated snow through snow plowing; our state–of–the–art machinery enables our team to tackle any snow clearing project, large or small. Our team will ensure the proper removal of snow from all types of surfaces, from parking lots to pathways to roads. When heavy snowfall occurs, snow banks can become heavy and dense, making them difficult to remove except by mechanical means. Our team is prepared to relief your property of this nuisance promptly and efficiently with our team of snowplows, clearing any parking lots, roads and pathways of snow buildup, making them accessible and minimizing any disruptions to service.
Snow buildup is not the only hazard when it comes to winter. Icy surfaces, such as frozen roads or walkways can arguably be even more dangerous to the standard pedestrians or driver—they can cause slips and falls as well as automobile accidents. For clustered and heavy traffic areas such as walkways and parking lots, it is imperative that these surfaces are properly treated with salting to ensure that the ice is melted and does not accumulate. Having properly salted surfaces will ensure the safety of users and is crucial to avoiding future problems.
As a Canadian company, we are acutely aware of how snow during winter months can adversely affect daily operations for many businesses. Our goal at Pacific Paving is to ensure that the properties of our clients are properly taken care of, many it one less thing to worry about. Pacific Paving is proud to provide our clients with professional snow removal in Toronto, Mississauga, Burlington, Oakville, Brampton and Newmarket. Make sure your property is snow–free and safe for use for the long winter months—contact Pacific Paving today for all your snow removal needs.
Effective, Efficient and Affordable Winter Snow Removal Services
Interesting links
Here are some interesting links for you! Enjoy your stay :)